Filtering and splitting CO2 from the atmosphere
Due to their enormous space and water requirements, plants are unsuitable for the necessary reduction of the CO2 content in the atmosphere. There is no room for 37 million km² of growing forest.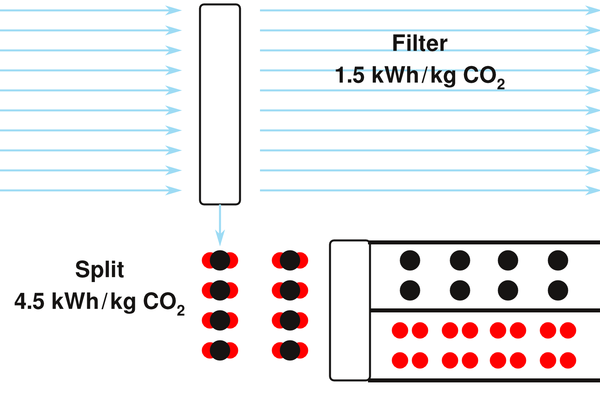 One process is standard in chemistry lessons: split H2O into H and O with electrolysis and the reverse process, the oxyhydrogen gas explosion. C can also be burned with O2 to CO2 or split again into C and O2. In the compound are 395.5 kJ/mol or 8.989 kj/kg or 2,5 kWh/kg.

Such fission processes always have an efficiency which we assume here to be 60%. That would be 4.16 kWh per kg CO2. But before it can be cracked, the CO2 must be acquired.

418 ppm is currently the volume fraction of CO2 in the atmosphere. The weight proportion is higher in the ratio 29:44. In one cubic metre of warm air, there are 0.76 g CO2. In 1,314 m³ of air there is 1 kg CO2. CO2 is chemically bound in CO2 filters. When the filter is full, this chemical bond must be broken down again.
What percentage of the CO2 in the air remains in the filter?
What is the flow resistance in the filter?
What is the effort to get the CO2 out of the filter?
Climeworks stated in 2020 for 1 t CO2: 650 kWh electricity for the fan, 2.000 kWh thermal energy at 100° to get the CO2 out of the filter. Assuming that a heat source is available with which a high temperature heat pump can generate 100°, the CO2 procurement is in the range of 1.5 kWh/kg CO2.

5 to 6 kWh per kg CO2 filter and split



Efficiencies can be slightly better or worse, a range of 5 to 6 kWh for 1 kg CO2 should be realistic.